The Fishing
Vancouver BC is fortunate to have consistent salmon fishing 365 days of the year. We have access to a number of different salmon fisheries which keep our guests on edge while on their charter.
The close proximity of the Fraser River, one of the world's richest salmon rivers, translates into an abundance of salmon throughout the year. Along with local stocks, there are waves of feeding and migrating salmon that pass by our doorstep on any given day of the year. We fish effectively for all five species of salmon in local waters depending on run timing.
Our Fisheries
Chinook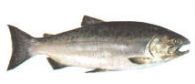 Chinook are available year round in local waters. In the late fall, winter and early spring we are kept busy with our feeder Chinook fishery. What these feisty fish lack in size, is compensated by their number and eagerness to bite. These 2 and 3-year-old fish range in size from 4-20 pounds. In the spring we start to see our first migratory Chinook of the year in numbers. These fish range from 9 to 25 pounds. Summer Chinooks are almost entirely migratory as the feeder Chinooks usually move on. Fish in the 15 -30 pound range are common. The fall Chinook fishery is where we get our biggest fish of the year. Through September and October, we have consistent action with Chinooks between 15-45 pounds. Chinook over 50 pounds are caught every fall by a few lucky anglers.
Coho
Our coho fishery kicks off in mid June along the West Vancouver shoreline and continues well into October. The peak of this fishery falls between late June and late August! Coho average between 4 and 13 pounds. In our local waters, only hatchery coho are retainable.
Sockeye
Sockeye are widely recognized as the best eating of the five salmon. Their deep red flesh and silver blue bodies are a welcome sight at the end of your line. Multiple simultaneous hook ups are common with these schooling fish. Run timing varies from year to year. Generally, the sockeye season is open between mid July through early September.
Pinks
When the pinks are running action can be fast and furious for these 4-8 pound fish. During a pink year (odd years 2007,2009,etc) up to 40 million fish mill around in Vancouver waters before heading up local rivers. Double-digit days are common in this fishery.
Chums
Chums are present in local waters from September through Early November. Although we do not target this fish often they are superb fighters. We tend to target chum during the last couple weeks of October.